VPD-250D High Speed Single Piece Wet Wipes Machine
Bag Type: 4 Side Seal Right Angle
Speed: 100-150 bags/min
Power: 8.8KW
Product Size: (40-140) *(40-110) mm(L*W)
Description
Parameters
Machine Feature
Video
Description
VPD-250D is the high speed single sachet wet wipes/tissue machine making right angle package bag.  This machine produces one piece four-side seal wipes that is portable. The right angle device is more cost-effective than the rounded corner device.
Products application: disinfectant wipes, alcohol pads/swabs, glass lens wipes, feminine care wipes, male delay wipes, makeup remover wipes and so on.
1. VPD-250D adopts Japan Yaskawa servo motor and Yaskawa Motion Controller. It is more intelligent and accurate, and also improve the productivity. The speed is 100-150 bags/min.
2. Adjustable mould can produce many sizes of wet wipes, it can make (40-140) *(40-110) mm(L*W).
3. When outputting finished wipes, single pack or double pack can be chosen at will.((only need to replace the dotted line knife part))
4. Non-woven fabrics can be folded according to different types. Up to 10 vertical folds and 4 horizontal folds, which can be freely folded by unfolding the width and length of the non-woven fabric.
5. Twice heat sealing to avoid liquid leakage.
6. Using right angle knife is more cost-effective, which is less cost and high productivity.
7. The edging form of package bag can be "-"or "v".
8. Machine and all main electrical parts strictly passes CE standard.
9. Glass cover to ensure safe and clean operation.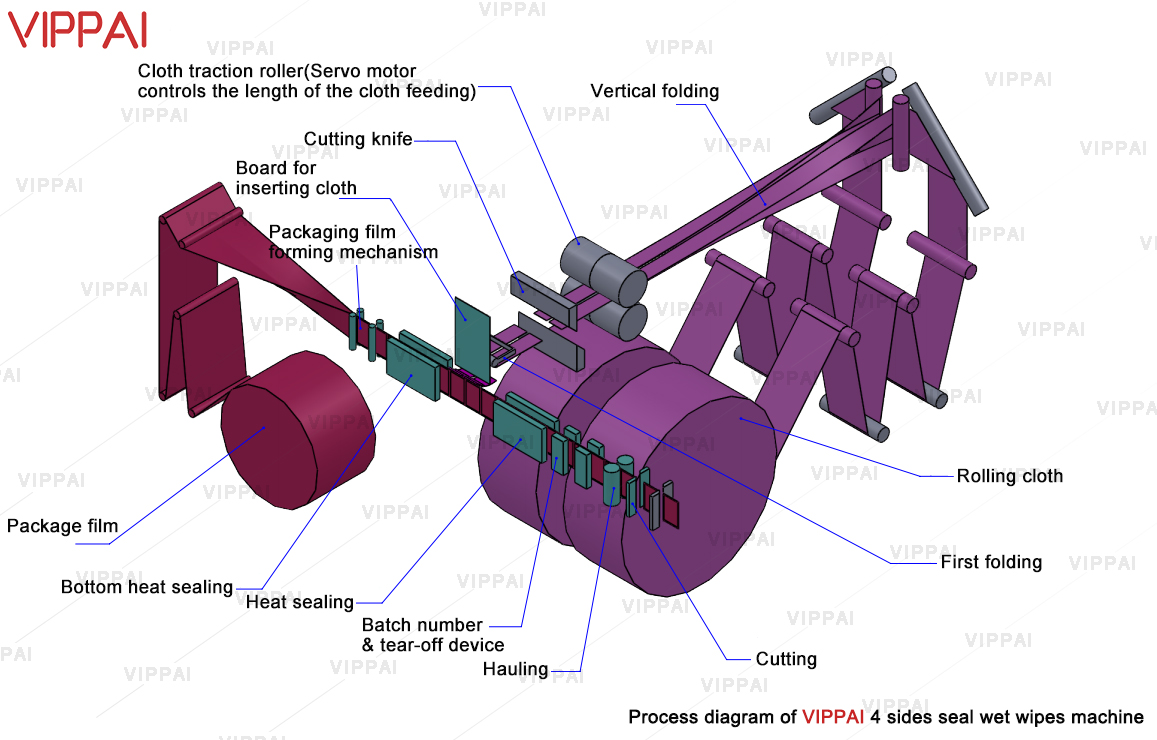 Parameters
Machine Feature
Video