VPD800E Gel Eye Patches Packaging Machine
Application: For gels eye patches
Bag Type: Four-side Seal
Speed: 500-1000 bags/min
Power: 5.5KW
Description
Parameters
Machine Feature
Video
Description
VPD800E Eye Patches Packing Machine is a machine for packing gel eye patches. Normally, there are two kinds of eye patches in the market, one is made by non-woven fabric, the other is made by gel material. This VPD800E is to pack the gels eye patches. The biggest point of this machine is high speed, its speed can reach at 500-1000 bags/min, it can output 4 bags at the same time.
Benifits:
1. The whole machine is equipped with Yaskawa servo motor from Japan. It is simple, safe and reliable to control text writing by touch screen to adjust parameters.

2. Reciprocating heat sealing mechanism, with sufficient time for large-area sealing, strong sealing, smooth, firm and beautiful sealing;and meet a variety of materials sealed packaging.
3. Alarm for lack of film and stop. Can automatically correct deviation, through two cursor point tracking, automatic calibration, automatic generation of safety and stability.
4. It can be make various specifications of packaging, convenient and fast mold switching, wide applicability, strong compatibility.
5. This machine is for packing eye patches, it can output 4 pieces eye patches at the same time and the fast speed can be 1000 bags/min.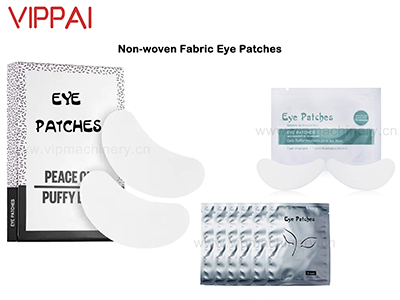 Parameters
Machine Feature
Video