VPD300E Eye Pad Making Machine
Application: For non-woven fabric eye patches making
Bag Type: Four-side Seal
Speed: 80-120 bags/min
Power: 15KW
Description
Parameters
Machine Feature
Video
Description
VPD300E Eye Patch Making Machine is a machine that integrates production and packaging. Different eye patches can choose their essence-adding device during the process of eye pad production. Normally, there are two kinds of eye patches in the market. One is made of non-woven material, and the other is made of gel material. The VPD300E is the machine to make non-woven material eye patches. The speed can reach 80-120 bags/min. It also adopts four-side sealing tech.
The whole line process:
Step 1: Cut the non-woven fabric into an eye patch shape.
Step 2: Liquid adding.
Step 3: Cut the packaging film.
Step 4: Put the eye patches and heat seal the bag.
Step 5: Cut and output finished eye patches. 
Benefits:
The whole eye patch making machine is equipped with a Yaskawa servo motor from Japan. It is simple, safe, and reliable to control text writing by the touch screen to adjust parameters.
Reciprocating heat sealing mechanism, with sufficient time for large-area sealing, strong sealing, smooth, firm, and beautiful sealing; And meet a variety of materials sealed packaging.
Alarm for lack of film and stop. It can automatically correct the deviation through two cursor point tracking, automatic calibration, and automatic generation of safety and stability.
It can be made with various specifications of the packaging, convenient and fast mold switching, broad applicability, and strong compatibility.
After-sales Service
VIPPAI not only offers partners high-quality eye patch making machines, reliable after-sale service and technical support are included.
Usage Guidance
When the eye pad production machine is delivered, we will provide installation and operation videos, and a manual of the machine to make sure partners are able to use the machine.
Reliable Warranty
One-year warranty support on all the electrical parts of VIPPAI eye pad production machines. If any quality problem occurs within one year, we will offer a free repair service to partners. All electrical parts of our machines have a one-year warranty; we will replace them if they fail.  
Technical Support
If the machine fails, VIPPAI engineers will provide professional online suggestions to help. If the problem cannot be solved online, we will arrange engineers for overseas to repair it. If the problem cannot be solved online, we will arrange for an engineer to repair it.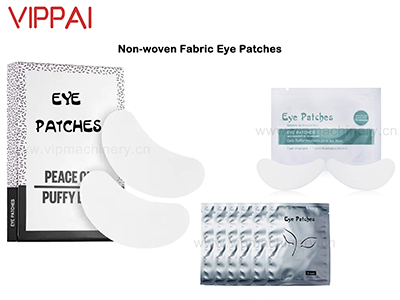 Parameters
Machine Feature
Video