VPD-800 Alcohol Pad Swab Making Machine(8 Lines)
Bag Type: Four-Side Seal
Speed: 800-1200 pcs/min(8 Lines)
Power: 8.8KW
Product Size: (45-55) *(45-55) mm(L*M)
Description
Parameters
Machine Feature
Video
Description
VPD-800 Alcohol Pad Swab Making Machine can output up to 8 pieces of alcohol wipes simultaneously. This alcohol pad machine adopts a four-side heat seal for better sealing. The biggest bright spot of this alcohol pad machine is the high production and fast speed. It is widely used in the Medical, Household Goods, and Pharmaceutical Industries. US BD, UK Medisave, Indian Poly Medicure, Russian Unicorn Med, Indonesian Arista, Chinese Yuwell, Chinese PurCotton, and so on.
VPD-800 Alcohol Swab Machine uses a servo motor to control the machine to get intelligent operation.
This alcohol swab making machine can cut one big roll into 8 rollers automatically or use 8 non-woven rollers, making 8 lines.
This alcohol swab making machine adopts a Swiss Gotec Electromagnetic Pump that is high accuracy and has strong corrosion resistance.
High output, the speed can reach800-1200 pcs/min.
The non-woven material can be folded in half or twice.
The alcohol swab making machine and all main electrical parts strictly pass standard.
Glass cover to ensure safe and clean operation.
After-sales Service
VIPPAI not only offers partners high-quality alcohol swab making machine, reliable after-sale service, and technical support are included.
Usage Guidance
When the alcohol swab making machine is delivered, we will provide installation and operation videos, and a manual of the machine to make sure partners are able to use the machine.
Reliable Warranty
One-year warranty support on all the electrical parts of VIPPAI machines. If any quality problem occurs within one year, we will offer a free repair service to partners. All electrical parts of our machines have a one-year warranty; we will replace them if they fail.  
Technical Support
If the machine fails, VIPPAI engineers will provide professional online suggestions to help. If the problem cannot be solved online, we will arrange engineers for overseas to repair it. If the problem cannot be solved online, we will arrange for an engineer to repair it.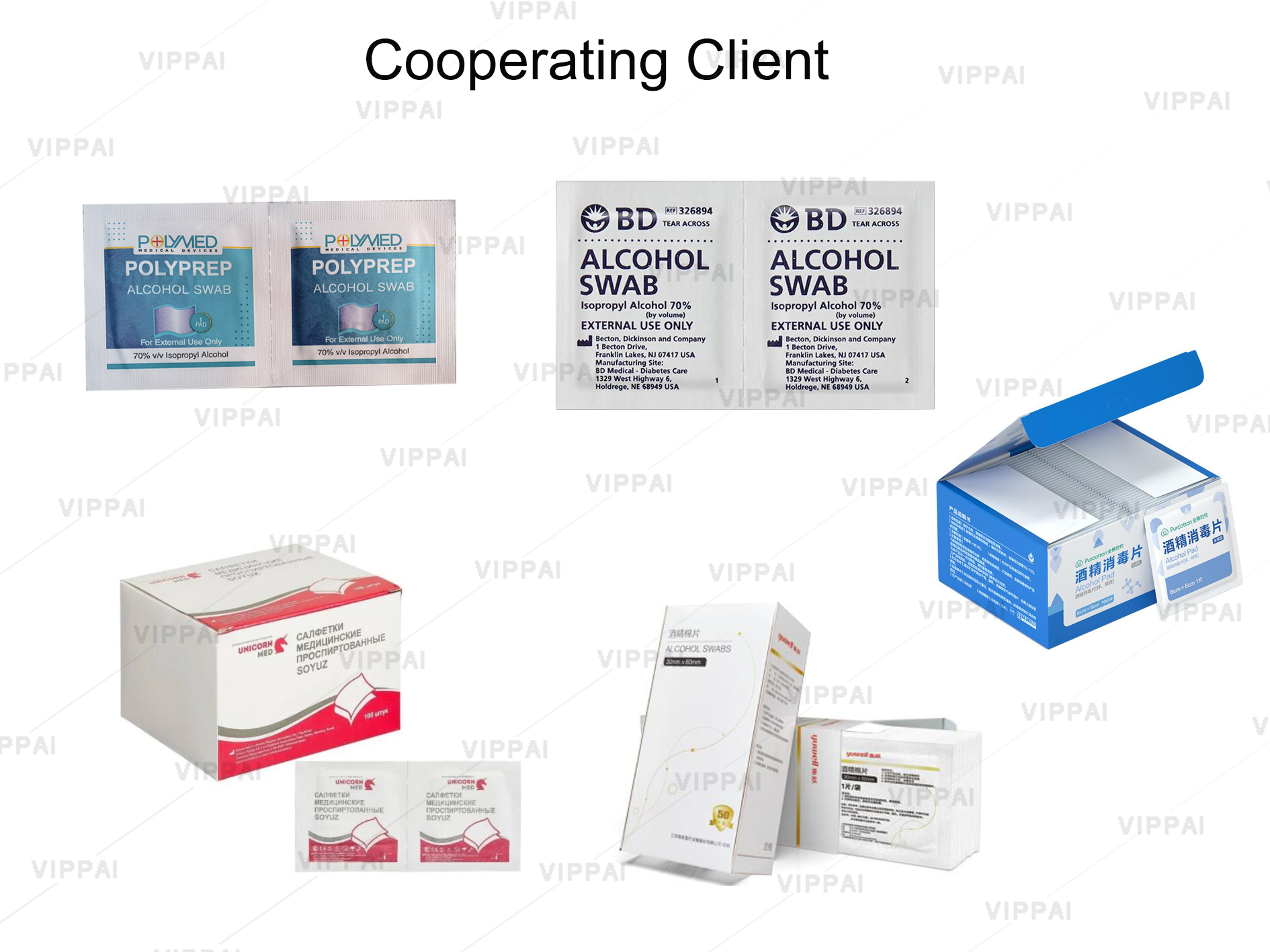 Parameters
Machine Feature
Video